Food Grade Silicone Rubber | Made in UK
Silicone rubber - ideal for food contact products
Silicone rubber is inherently non toxic, odourless, and tasteless. It is also resistant to very high and very low temperatures, has good release properties, and has favourable tactile qualities.
This has led to silicone being the material of choice for many applications which are in direct contact with food and drink. This includes food production, utensils, bakeware, food and drink delivery systems, baby bottle teats, teething rings, and toddler cups. It is essential to understand what standards need to be met when supplying these products, and what material choices are available that meet these standards.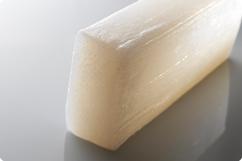 Primasil have a proven expertise in this field, and can supply products that meet:
Drinking water compliant KTW BGBI 28, Nr. 12 (1985) (Germany) (A,C1, D1, D2)
To ensure that your final fabricated product is suitable for food contact, our technical experts will work with you to recommend appropriate materials and processing methods.

All under one roof.
Primasil are the only UK silicone rubber manufacturer to have all services under one roof! We formulate and mix our silicone compound, extrude or mould our finished products, and develop new products - all in the UK!
Send us your requirements