Quality - giving you confidence
You need to be confident that the product you receive from Primasil will live up to your expectations.
We have approved mechanisms in place from the initial enquiry through to production of your product to ensure that this happens.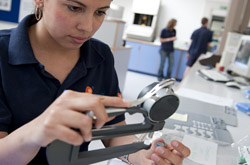 Primasil were the first independent silicone company in the UK to achieve ISO9001:2008 certification and we constantly check that we are meeting the customer requirements and that any potential problems are identified at the earliest possible opportunity. This 'Right First Time' mantra permeates all aspects of our organisation.
 Our accreditations:
ISO 13485 certified
ISO 9001 certified
FDA registered
ISO 14644, ISO Class 7 (10,000) cleanroom, ideal for platinum curing
Inefficiencies in any company are ultimately passed on to the customer. We believe that putting the effort in at the onset is more beneficial to our customers and ourselves. We will not make assumptions about your requirements, and ask that you work with us to ensure that, where possible, we are aware of all the product characteristics.

All under one roof.
Primasil are the only UK silicone rubber manufacturer to have all services under one roof! We formulate and mix our silicone compound, extrude or mould our finished products, and develop new products - all in the UK!
send us your requirements