High Strength Silicone Rubber
Designed to have a significantly higher elongation and tear strength than general purpose silicone.
It can be used for moulding, extrusion and calendering and the final products are generally more resistant to abrasion and fatigue than general purpose silicones. High strength silicones are also widely used for straps and medical tourniquets.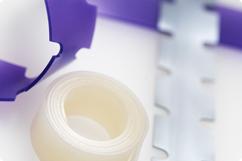 An additional process available at Primasil is automated silicone punching. This enables very cost efficient production for high volume runs. Of course, as we mix ALL of our high consistency silicone on site we always achieve the best prices possible for these high strength silicone products.
Durometer Hardness (Shore A) 30 – 70
Specific Gravity (g/cm3) 1.12 – 1.22
Tensile Strength (Mpa) 8 – 11
Elongation (%) 300 – 900
Tear Strength (N/mm) 25 – 40
Compression Set % (22h @ 175°C) 20 – 45
Colours available: All

 For a custom formulation on +44 (0)1544 312600

Ask our experts?
Contact our team of experts for advice on your silicone rubber formulation requirements
ask our experts in formulation