Silicone sponge from the UK
Silicone Sponge
Many substrates are too weak for traditional sealing materials.
Where this is the case, silicone sponge provides an excellent alternative. Its extreme compressiblity enable it to conform to very tight corners with low closure forces to maintain sealing functionality!
Silicone sponge is sometimes referred to as silicone foam. Whatever you want to call it, we can supply it cut to length with adhesive backing, in a range of colours.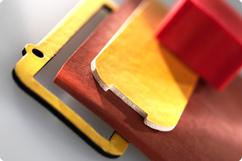 Call our experts
Are you looking for a silicone rubber manufacturer to help design your product through the prototype stage to full production?
contact our development team