Silicone Rubber Mouldings | Custom Parts
Compression Moulding
A piece of uncured rubber of specific weight and/or size is placed between two halves of a pre-heated mould. The mould is then closed in a press under an overall pressure of around one ton per square inch. The rubber is heated by conduction from the mould surface, and cures to the shape of the cavity. At Primasil we've been doing this for over 30 years.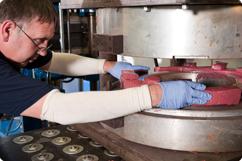 From simple 'o' rings and gaskets to more complex parts, we will work with you to ensure the most cost effective and reliable moulding technique is used. This includes designing the mould to ensure that air traps and defects do not affect the quality of your parts.
We use tried and tested toolmakers from inside and outside the UK, all specialists in certain types of tool. This allows us to choose the most suitable supplier for your application.

   Our Compression Moulding Information Sheet.