Silicone Rubber Product Development | Material & Components
Developing innovative products with you
Primasil have built up an enviable reputation within the silicone industry for working hand in hand with customers to develop innovative products.
Based on a 'can do' attitude, we have succeeded with challenging products where other companies have failed.
This had led to many successful long-term partnerships with a diverse range of customers – from small local manufacturers to the largest multinationals.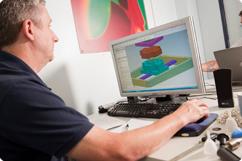 1. Understanding your initial requirements
Whether your enquiry is for a very simple product, or for a development programme lasting several years, the procedure is basically the same and always begins with a full feasibility study.
This will often involve input from the customer, and is a great way of identifying any sensible design changes at the onset. Our ability to spot design flaws has frequently saved our customers from costly tool modifications and missed deadlines.
2. Getting the right people involved early on
Our development and production teams will work together to identify the most efficient method of production.
This may be based on time constraints, tooling cost, and forecast volumes. We insist on committing resources at the early stages to ensure the solution is cost effective, scalable, and practical.
3. Staying on track
This is the best way we know to eliminate frustration. Using the latest Project Management software our dedicated Product Development will track progress carefully from the feasibility discussions right through to delivering the finished product.
4. Fully trace your parts and materials
Throughout the development, sampling, and production stages, there is full traceability of all raw materials and components in accordance with our ISO9001:2008 accreditation. This ensures consistency in all product supplied by Primasil.
5. Testing
The approach to testing at Primasil is simple – we will carry out whatever testing you require.

Call our experts
Are you looking for a silicone rubber manufacturer to help design your product through the prototype stage to full production?
contact our development team