Silicone Rubber for Medical Devices | Made in the UK
Medical & Pharmaceutical Silicone Components
Silicone rubber is flexible in every sense of the word. Through subtle alterations of its chemistry, we bend and shape its properties to meet the demands of widely differing products. Tubing, tourniquets, chemotherapy cooling caps, liver slings, mats and inserts for surgical trays, duckbills and conical seals are just a few examples. No matter how large, small or intricate the component, we have the experience and manufacturing capabilities to produce it.
Our facilities support both cleanroom and normal shop floor operations, depending on the nature of the product, which gives us the flexibility to tailor production to your project schedule and budget.
SILICONE MOULDING
From tiny diaphragms with a wall thickness of less than 0.25mm, to impressive injection moulded parts weighing over 40kg. Primasil's comprehensive press shop facilities provide the capacity to manufacture in any volume to meet your needs.
QUALITY-LED
To produce materials, components and finished items for the medical industry we also have the following specific accreditations:
ISO 13485:2003 certified
ISO 9001:2008 certified
FDA registered
ISO 14644-1:1999 ISO Class 7 (10,000) cleanroom
SILICONE EXTRUSION
Silicone extrusion is the process whereby silicone is forced through a shaped die (a stainless steel disc with a pattern cut out) to produce cords, complex profiles and cross-sections. At Primasil, we have over 30 years of designing tooling for silicone extrusion, with a very high success rate! 
Find out more about Primasil's extrusion capabilities

 Buy silicone rubber tube today

 Custom tube call +44(0)1544 312600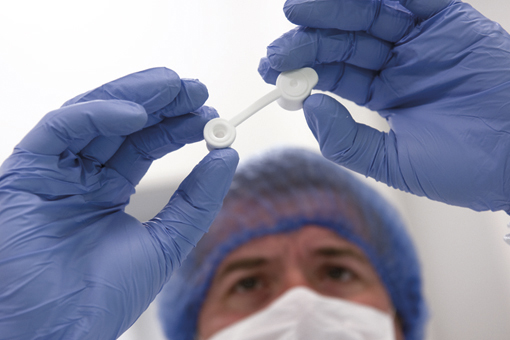 MEDICAL TUBING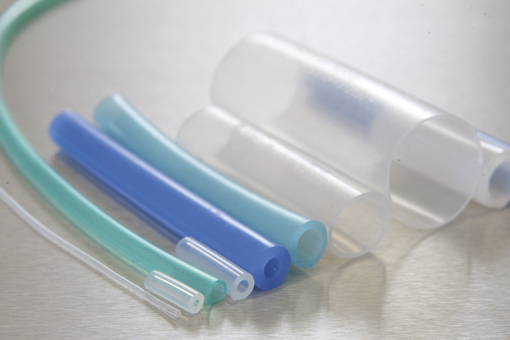 Silicone medical tube has two main advantages over other materials: it is highly flexible and
tear-resistant, and hence ideal for transporting fluids. Plus it contains no plasticisers or other additives that could leach into a drug product and cause toxicological issues.
We can manufacture medical tubing to your preferred bore size, wall thickness and tube length. We also extrude thin-walled medical tubing.
Primasil medical tube is manufactured in line with our ISO 13485 certification and the platinum-cured products are made in our ISO Class 7 (10,000) cleanroom.
THE SAINT TOURNIQUET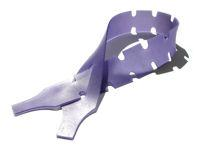 The SAINT – the ultimate Single-use Anti-Infection Tourniquet – has been developed to help prevent the spread of hospital-acquired infections.
While other tourniquets tend to be uncomfortable and difficult to use, the SAINT offers a special high-comfort silicone rubber formulation and an easy-secure, easy-release functionality. Its other key benefits are:
100% latex free
FDA compliant
Conforms to USP Class VI
Conforms to 93/42/EEC Class I Medical Device Single-use only
ISO 10993

Medical
We work closely with our medical and pharmaceutical customers through the product development stages from product realisation to full production.
Contact our medical team to discuss your requirements:
Call us on +44 (0)1544 312660
Email us on medisil@primasil.com
send us your requirements