Automotive Silicone Rubber | Material & Components
The Optimum Automotive Rubber Solution
Silicone rubber delivers the strength, temperature resistance, and durability needed under the bonnet and helps provide cushioning, load bearing and protective shock absorption qualities to automotive interiors.
The properties required include:
High resistance to ozone, water, sunlight and U.V.
Good tensile strength
Flexibility and extended life at low and high temperatures
Excellent resistance to compression set
High electrical insulation qualities
Applications include:
Airbag seals
Electronics
Exhaust hangers
Exterior trim
Gaskets
Headlamp seals
Hoses
Ignition cables
Interior trim
Membranes
Radiator seals
Shock absorbers
Sparkplug boots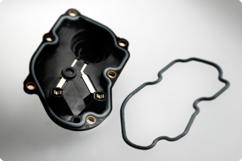 Case Study - Gaskets for fuel cell stacks
A prominent developer of hydrogen fuel cell systems was embarrassed to have overlooked the importance of the gasket within their product. Reassurance that this was a common story across many industries did not relieve the pressure – a finished gasket was needed within two months.
Silicone rubber is used to seal the interface of the membrane electrode assembly and the individual cells of the proton exchange membrane fuel cell stack.
The material for this product is key and must be selected carefully to prevent out-gassing, degradation, and leaching of the silicone's own ingredients. Consistent compression set and thickness of the gasket is also a crucial consideration.
Using our expertise and experience Primasil worked in partnership with the customer to ensure delivery of a high performance gasket within the demanding timeframe. This is just one of several different designs we have completed for a number of the UK's major fuel cell manufacturers.

Automotive
High engine temperatures, extended warranties and the drive to reduce emissions all demand high-quality rubber products.
Talk to our automotive team on: +44 (0)1544 312600
Email the team on automotive@primasil.com
Contact us today