Silicone Rubber for Rail Interiors & Mass Transit from the UK
Silicone Rubber - The Perfect Fit for Rail
The Rail & Mass Transportation sector demands materials that are self extinguishing and do not give off harmful gases when ignited.
Formalised in the BS6853 certifications these materials must also operate between -60 and +250C whilst retaining demanding physical characteristics.
 
In addition, designers demand materials that meet stringent cosmetic requirements, whilst taking for granted the technical and safety approvals.
Only a handful of materials have attained BS6853 Cat 1a and CEN/TS 45545-2 HL3 approval, and the only one available in jet black is railsil, supplied by Primasil Silicone Ltd.
Not only has Primasil developed the formulation, but all compounds are mixed on site and a fully equipped processing facility is available to provide bespoke extruded and moulded components to your exact specifications.
Please download the extrusion and moulding grade railsil Technical Data Sheets for more information.
Approvals:
BS 6853: 1999 Cat 1a
NF F 16-101
DIN 5510-2
UL94 V0 (3 mm) 
Applications:
Exterior applications Window seals, door seals and door nosings
Interior applications - Floating floors, HVAC seals and ducting, cable insulators and interior trims for items like luggage racks and toilet modules
Gangway applications - Overall structure and sealing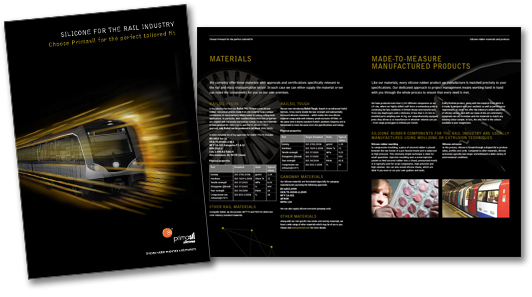 Case Study - 'New generation' gangway
When a major European train gangway manufacturer needed silicone seals for its 'new generation' gangway, we developed a solution around a set space envelope that met all physical and functional requirements, complied with stringent fire test criteria and ensured a precise, aesthetically pleasing colour match.
Initial designs were verified using Finite Element Analysis (FEA) software and extruded samples were supplied to the customer. Following the customer's extensive testing process, the seals were approved and are now fi tted as standard in these gangways.

Rail expertise
We work closely with our rail customers through the product development stages from product realisation to full production.
Contact our rail team to discuss your requirements:
Call us on +44 (0)1544 312600
Email us on rail@primasil.com
send us your requirements