Medical Grade Cleanroom Silicone Rubber
Silicone rubber - for use in clean environments
Silicone is suitable for use in clean environments as the polymer does not support microbiological growth. This makes it ideal for medical devices.
Joint replacements, tubing, catheters, and all manner of medical devices are manufactured using medically approved silicone. Most processing methods can be used for these devices, provided they are carried out in a suitably clean environment.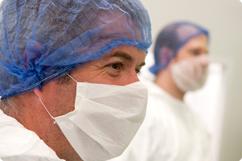 As a low taint, non-toxic material, silicone can be used where contact with food is required. Coupled with its high temperature resistance, this makes it an ideal polymer for food moulds, baking machinery components, and vending machine tube. Over the last few years there has also been an increase in the number of household utensils manufactured from silicone rubber. Specific grades of silicone rubber are used widely in the production of baby bottle teats due to their cleanliness aesthetic appearance and low extractable content.
See the Medical and Pharmaceutical section of our website for more information on the use of silicone in clean environments.

Ask our experts?
If you'd like to find out if silicone rubber is the right material for your product, contact our expert team.
ask us about silicone rubber