Silicone rubber for outdoor products
Silicone rubber - perfect in all weathers
Silicone will retain its properties regardless of the weather conditions to which it is exposed.
Wet, dry, cold, hot, or humid, parts made from silicone rubber will also not be affected by ozone or UV.
This has led to widespread use in the construction industry (e.g. coatings, fire protection, glazing seals), and automotive industry (external gaskets, external trim).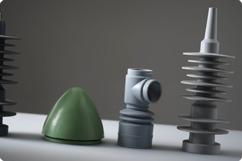 In addition to being resistant to rainwater, parts made from silicone are not adversely affected by immersion in seawater. This has enabled diving gear, seals and gaskets on submarines and ships, and components on oil-rigs to have a longer operational life.

Ask our experts?
If you'd like to find out if silicone rubber is the right material for your product, contact our expert team.
ask us about silicone rubber