Silicone Rubber for automotive components
Automotive Silicone Components
The Primasil new product team works closely with customers to identify the most efficient method of production. Time constraints, tooling costs and forecast volumes are all taken into account. By insisting on committing resources in the early stages, we ensure that the solution is cost-effective, scalable and practical.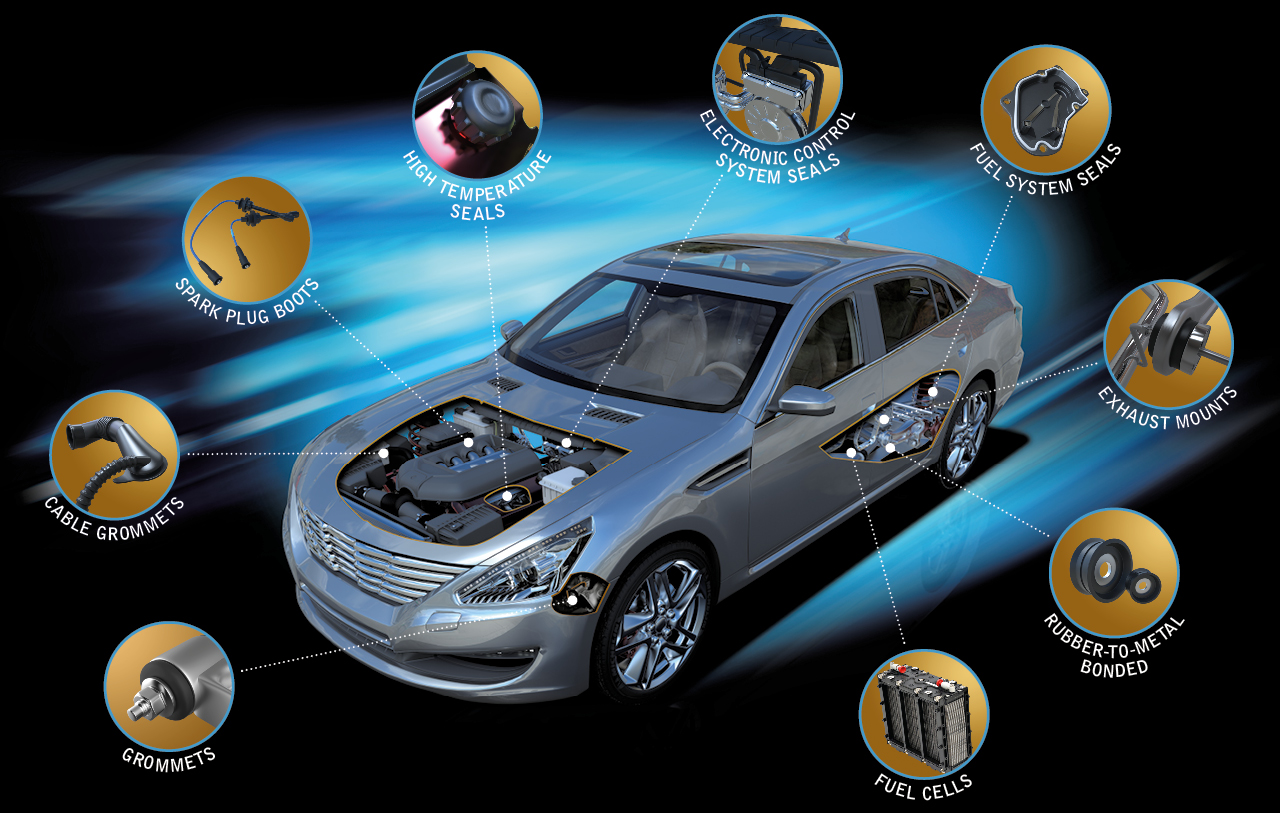 As experts in automotive rubber solutions Primasil materials and components include:
The material for these safety-critical parts requires special attention to withstand extreme temperatures as well as frictional heat from the braking process. Hoses, cups and boots all demand both silicone rubber and rubber
Shock absorber seals, vibration mounts and air springs, contributing to the ride quality of the vehicle, all require rubber parts.
Electrical components must be sealed from outside moisture and debris.
Wiring system grommets, harness plugs and cable grommets are used with enclosures and panels where the cable entry point must be sealed from moisture and dust.
To provide resistance to fuel and high temperatures FKM and fluorosilicone elastomers are typically used. Primasil has extensive experience in all moulded parts including fuel injection seals, fuel pump seals, manifold gaskets and diaphragms.
These demand excellent damping properties, with high thermal resistance and mechanical performance.
Along with the prevention of out-gassing and degradation, a consistent thickness of gasket is essential for fuel cells. We supply the leading UK fuel cell manufacturers, working alongside key partners in two European framework fuel cell development programmes.
Hostile engine environments and tight emission regulations require the best quality rubber. With Primasil you can create fuel system seals, diaphragms and gaskets which deliver great performance.
Material must be UV resistant with a high compression set to ensure moisture cannot enter the headlight. We are experienced in providing superior seals to mitigate risk of failure.
As a leading supplier of silicone rubber materials for automotive hoses Primasil understands the material tolerances needed for oil, heat and ozone. Our compounds also offer durability for long term life applications.
The elastomer of choice is HNBR, with its high resistance to conditions in these systems. 
Rubber-to-metal bonded components
Benefit from our extensive experience across many industries. Our rubber-to-metal bonded components are used to isolate vibration, absorb shock and support load while remaining highly durable and heat resistant.
Primasil knows that outstanding electrical insulation and thermal resistance are needed, so we have developed a selection of suitable materials and custom-manufactured parts.

Automotive
High engine temperatures, extended warranties and the drive to reduce emissions all demand high-quality rubber products.
Talk to our automotive team on: +44 (0)1544 312600
Email the team on automotive@primasil.com
Contact us